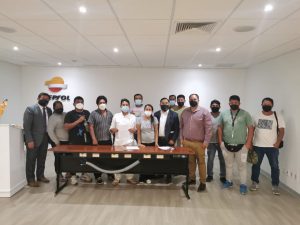 The agreements will benefit more than 1,400 fishermen through a partial advance of the economic compensation to mitigate the effects of the oil spill caused by the Mare Doricum tanker.
Lima, March 2, 2022. Repsol has signed compensation agreements with the Asociación de Pescadores Artesanales de Ancón and the Confederación de Pescadores Artesanales de la Rivera de Chancay, which will benefit more than 1,400 affiliated fishermen. The agreements are part of the social aid action plan that Repsol has been developing after the oil spill caused by the uncontrolled movement of the Mare Doricum tanker on January 15.
The agreements, signed by representatives of the two associations, have as their main commitment a partial advance of economic compensations to mitigate the impact that the fishermen have suffered in their work activities, affecting their economic income.
Company representatives will meet again with both associations after no less than 30 days have passed to reevaluate the situation of the members.
Long-term commitment
Repsol has been providing basic necessities to a total of 3,991 people, grouped in 60 collectives of fishermen, merchants, restaurants, and nautical services in Chancay, Ancon, Santa Rosa, and Ventanilla. To date, 6,488 vouchers of 500 Peruvian soles have been provided. The modalities of support, as well as the periodicity, have been previously agreed with these communities.
The company remains in continuous dialogue with the authorities and the affected communities to learn about their needs and provide them with the support they require during the duration of this situation. In coordination with the affected population, the company is developing medium and long-term support plans.
Repsol reiterates its commitment to remedy the damage that the spill has caused to the communities in the affected area. The company will maintain the support it is offering to those affected until the beaches and the sea are once again suitable for the exercise of their various productive activities.
Follow our progress on our social networks: Facebook, Twitter, Instagram, LinkedIn  and Youtube.