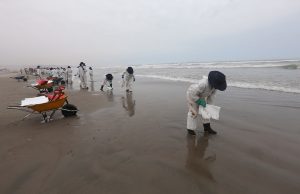 Oil spill management expert Daniel Cruz speaks about the strategies applied for oil spill recovery in the affected area.
To efficiently carry out the clean-up and environmental remediation of the oil spill in Ventanilla in mid-January , we joined forces with various national and international specialists organizations.
One organization is Oil Spill Response, an English company with a global presence and more than 30 years of experience in oil spill management, where they applied a series of innovative strategies. Daniel Cruz, Oil Spill Response's emergency management supervisor, gives us details.
"Our technicians are specialists at incorporating best practices acquired worldwide, such as the use of skimmers, booms, pompoms, and absorbent cloths," Cruz explained.
Because of the rigorous analyses and planning started on day one, the beach cleaning and hydrocarbon collection has made important progress , being qualified as "immense" by the supervisor of emergency management of Oil Spill Response.

Remember that you can find out about our progress by following our social networks on: Facebook, Twitter, Instagram, LinkedIn  y Youtube.